What a nice Sunday to remember. It was a challenging season for sure. I was somewhat disappointed that LeBron couldn't make it out West to lead his Cavs but nonetheless am happy with the series against the Orlando Magics. Even though the record books would have "4-1", it wasn't a disappointing series against Dwight Howard and team.
Anyways, congrats to the Los Angeles Lakers! That'll make it our 15th NBA Championship Title.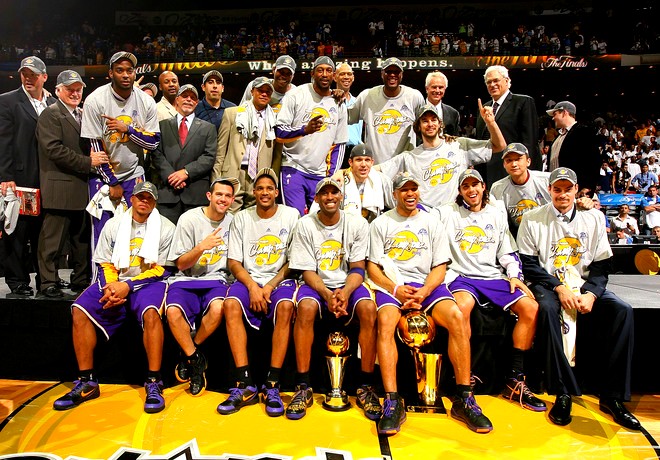 That is number four for Kobe!
Not to mention, the tenth championship win for Coach Phil Jackson! Which makes him the most winningest coach in NBA history. (Clean cap by the way. Digging the purple-stitched "X" front-and-center.)
Meanwhile, time to pop champagne and enjoy the parade down LA! ((The parade begins at Figueroa and 11th St, just outside the Staples Center. The route runs along Figueroa, to the Los Angeles Coliseum. Admission to the LA Coliseum is free, and gates are expected to open at 9:30 a.m. Lakers fans are urged to arrive early, to avoid already heavy traffic in Los Angeles. Here's the link to the route via Google Maps.))
PS. Photos from NBA.com's "2009 NBA Champs" gallery. View more here.