What a nice Sun­day to remem­ber. It was a chal­leng­ing sea­son for sure. I was some­what dis­ap­pointed that LeBron couldn't make it out West to lead his Cavs but nonethe­less am happy with the series against the Orlando Mag­ics. Even though the record books would have "4–1″, it wasn't a dis­ap­point­ing series against Dwight Howard and team.
Any­ways, con­grats to the Los Ange­les Lak­ers! That'll make it our 15th NBA Cham­pi­onship Title.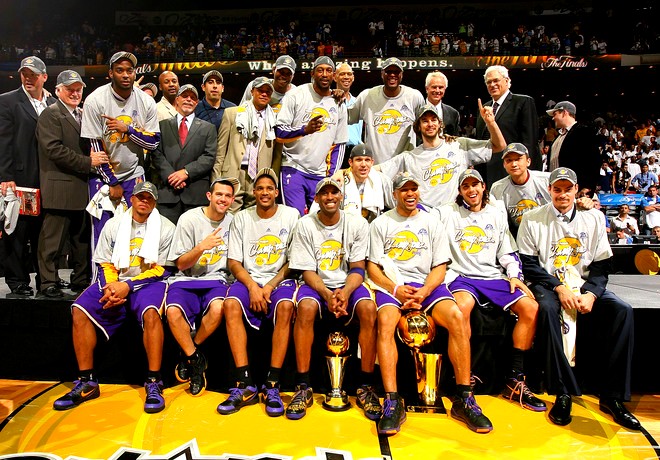 That is num­ber four for Kobe!
Not to men­tion, the tenth cham­pi­onship win for Coach Phil Jack­son! Which makes him the most win­ningest coach in NBA his­tory. (Clean cap by the way. Dig­ging the purple-stitched "X" front-and-center.)
Mean­while, time to pop cham­pagne and enjoy the parade down LA!1
PS. Pho­tos from NBA.com's "2009 NBA Champs" gallery. View more here.
The parade begins at Figueroa and 11th St, just out­side the Sta­ples Cen­ter. The route runs along Figueroa, to the Los Ange­les Col­i­seum. Admis­sion to the

LA

Col­i­seum is free, and gates are expected to open at 9:30 a.m. Lak­ers fans are urged to arrive early, to avoid already heavy traf­fic in Los Ange­les. Here's the link to the route via Google Maps. [↩]