It's not news to most that KIA has been pro­duc­ing awe­some car com­mer­cials for the past cou­ple of years now. They have been boost­ing up their mar­ket­ing dol­lars with cre­ativ­ity and humor; and they have the increase in sale num­bers to prove it. Whether the star of the show are char­ac­ters from Yo Gabba Gabba, ham­sters, or a bas­ket­ball star on the rise—Blake Griffin.
"Joyride II" / Yo Gabba Gabba

Party Rock / Hamsters

Dope right? They get you intrigued by mul­ti­ple stim­uli: sight and sound. Not only that, but they make you think who are these car­toon look­ing char­ac­ters; why are these ham­sters big­ger than the car; and wow–how they can shuffle?!
Mean­while, it's been almost a year since the lat­est Slam Dunk com­pe­ti­tion hoisted Blake Grif­fin as its cham­pion. What did he do? You might ask. Well, he dunked over a KIA Optima. Yah—I know, I would've thought it would be a Honda or Toy­ota, but a KIA? In the NBA Slam Dunk competition?
Any­ways, it was a crazy dunk. He could have cleared a big­ger size chas­sis for sure.
Here's the com­mer­cial that was pro­duced from it.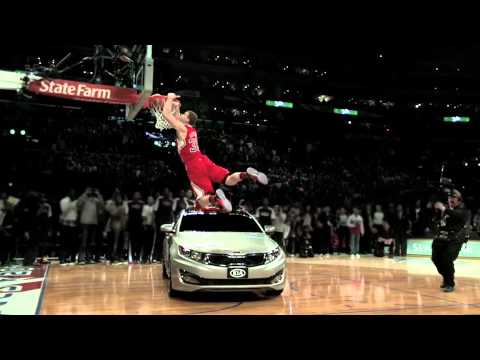 But that's not all of it. Recently KIA aired their new cam­paigns fea­tur­ing Blake Grif­fin in humor-filled spots. I say it's great tim­ing with all these NBA news cir­cu­lat­ing trades and rumors this past week.
Here is the "Camp­site" com­mer­cial.

This one is enti­tled "Next Level Dunk" com­mer­cial ("Time to Shine").

Last but not least, here is the "Hair Salon" com­mer­cial. I think this one is the fun­ni­est yet.

"UVO. Play funk!" =)
Props goes out to the cre­atives at David & Goliath for an awe­some job.