Eddie Huang of Bao­haus NYC, in his talk dur­ing Big Oma­ha 2012 (May 11) pre­sent­ed by Microsoft BizS­park. Pret­ty fun­ny, and inspir­ing stuff.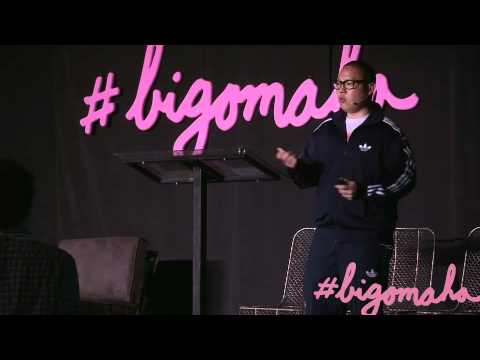 Huang is a writer, chef, entre­pre­neur and TV per­son­al­i­ty based in New York City. He is best known as the chef and own­er of Bao­Haus, which has received crit­i­cal acclaim and cov­er­age from The New York Times, The New York Post, CNN, NBC, CBS, The Vil­lage Voice, Town & Coun­try, XXL, The Source, Com­plex, Entre­pre­neur, The Wall Street Jour­nal and many oth­er out­lets. Eddie earned a flaw­less "$25 and Under" review from The New York Times, "Best Bun 2010" from New York, "Best Fries" from Time­Out New York 2010 and Top 10 Eats The Vil­lage Voice.
Mem­o­rables…
Peo­ple are always like, 'It's not about mon­ey; it's not about mon­ey…'

It is about mon­ey. You should not be embar­rassed to be about mon­ey, and I'm about mon­ey.
My belief is you can do more for peo­ple by being com­mer­cial­ly viable,… And not only can you help with mon­ey, but if you have a valu­able prod­uct, peo­ple will lis­ten to what you have to say. And the most impor­tant thing is while you're get­ting mon­ey, don't for­get your 'whys'.
Last but not least, the one on hav­ing too many pas­sion projects:
I don't care… If I make a big enough impact, Wikipedia will explain that shit to them.
Haha—truth!
Fol­low him at:
Source: @exaktoh x Sil­i­con Prairie