I was for­tu­nate enough to attend the first-ever "Plat­form Talks" with jeffstaple1 here in Mani­la. For those that could­n't attend, here's a quick­strike of high­lights through­out this "ordi­nary" Tues­day, Octo­ber 30th after­noon…
The ori­gins of "Sta­ple"

Life sucks. So just do what makes you hap­py.
There is no "mag­ic wand"—hard work is the secret sauce.
Etsy's Hand­made Por­traits: "The Sword Mak­er" (Kore­hi­ra Watan­abe)

Success/happiness, and their cor­re­la­tion to Kore­hi­ra Watan­abe:
There are basi­cal­ly no direc­tions or for­mu­las… to make Koto (ancient swords) success/happiness.
It's impos­si­ble to recre­ate the sword success/happiness.
Success/happiness does­n't hap­pen over night. Kore­hi­ra Watan­abe has honed his craft for 40 years, it's only in the past five years that he have final­ly suc­ceed­ed in mak­ing a few sim­i­lar to Koto success/happiness.
Keep rais­ing the bar of success/happiness; if not, it will "wear thin with time." (Watan­abe wants his dis­ci­ple to sur­pass him as a sword mak­er; a dis­ci­ple bet­ter than him.)
Well we hus­tle out of a sense of,
hope­less­ness.
Sort of a des­per­a­tion
Through that des­per­a­tion, we come addict­ed.
But we feel we have noth­in' to lose.
So we offer you, well, we offer our lives.
What do you bring to the table?
Short doc of the event by Mar­gaux Sue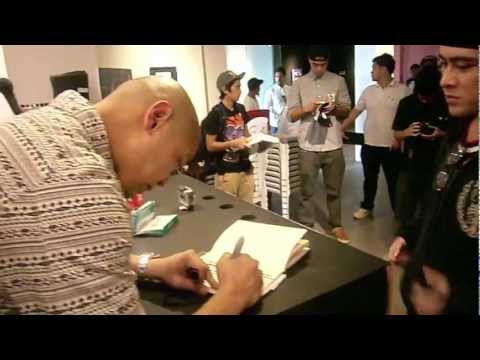 I hope this keeps the fire burn­ing in you; if any, makes it even big­ger!
Much thanks goes out to those involved in mak­ing this hap­pen: WIP Caps, Secret Fresh Gallery, Sta­tus Mag­a­zine, Grey­one Social, co.lab, Ronac Art Cen­ter, and last but not least—Sarah & Banj of Plat­form Show Mani­la.
PS. Haha… Apple x Banksy x jeff­sta­ple =) I now appar­ent­ly have the one and only jeff­sta­ple Mac­Book Pro lol

Founder and Cre­ative Direc­tor of Sta­ple Design and Reed Space. [↩]