This is fun. Check out this com­mu­ni­ty project which added some­thing to the Google Street View of their street. The project was Street With A View.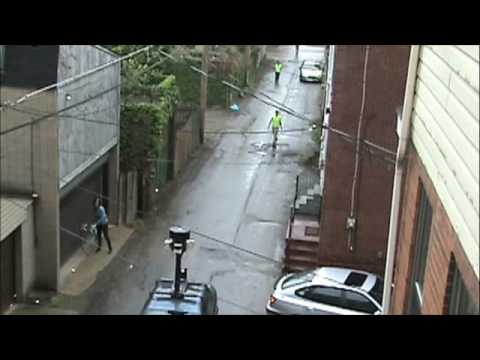 Street With A View intro­duces fic­tion, both sub­tle and spec­tac­u­lar, into the dop­pel­ganger world of Google Street View.

On May 3rd 2008, artists Robin Hewlett and Ben Kins­ley invit­ed the Google Inc. Street View team and res­i­dents of Pittsburgh's North­side to col­lab­o­rate on a series of tableaux along Samp­so­nia Way. Neigh­bors, and oth­er par­tic­i­pants from around the city, staged scenes rang­ing from a parade and a marathon, to a garage band prac­tice, a sev­en­teenth cen­tu­ry sword fight, a hero­ic res­cue and much more…

Street View tech­ni­cians cap­tured 360-degree pho­tographs of the street with the scenes in action and inte­grat­ed the images into the Street View map­ping plat­form. This first-ever artis­tic inter­ven­tion in Google Street View made its debut on the web in Novem­ber of 2008.

An incred­i­ble cast of real-life char­ac­ters con­tributed their time, ener­gy and tal­ents to cre­at­ing pseu­do-street life on Samp­so­nia Way. Please check out the scene break­down, the par­tic­i­pant page and the video doc­u­men­ta­tion to learn more about the artists, groups and par­tic­i­pants that made Street With A View pos­si­ble.
You may see more of the project, as well as the actu­al Street View, at http://www.streetwithaview.com