I was for­tu­nate enough to attend the first-ever "Plat­form Talks" with jeffstaple1 here in Manila. For those that couldn't attend, here's a quick­strike of high­lights through­out this "ordi­nary" Tues­day, Octo­ber 30th afternoon…
The ori­gins of "Sta­ple"

Life sucks. So just do what makes you happy.
There is no "magic wand"—hard work is the secret sauce.
Etsy's Hand­made Por­traits: "The Sword Maker" (Kore­hira Watanabe)

Success/happiness, and their cor­re­la­tion to Kore­hira Watanabe:
There are basi­cally no direc­tions or for­mu­las… to make Koto (ancient swords) success/happiness.
It's impos­si­ble to recre­ate the sword success/happiness.
Success/happiness doesn't hap­pen over night. Kore­hira Watan­abe has honed his craft for 40 years, it's only in the past five years that he have finally suc­ceeded in mak­ing a few sim­i­lar to Koto success/happiness.
Keep rais­ing the bar of success/happiness; if not, it will "wear thin with time." (Watan­abe wants his dis­ci­ple to sur­pass him as a sword maker; a dis­ci­ple bet­ter than him.)
Well we hus­tle out of a sense of,
hopelessness.
Sort of a desperation
Through that des­per­a­tion, we come addicted.
But we feel we have nothin' to lose.
So we offer you, well, we offer our lives.
What do you bring to the table?
Short doc of the event by Mar­gaux Sue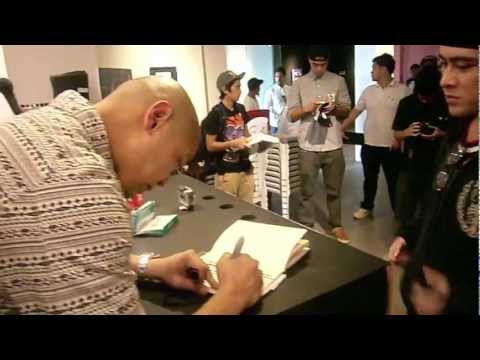 I hope this keeps the fire burn­ing in you; if any, makes it even bigger!
Much thanks goes out to those involved in mak­ing this hap­pen: WIP Caps, Secret Fresh Gallery, Sta­tus Mag­a­zine, Grey­one Social, co.lab, Ronac Art Cen­ter, and last but not least—Sarah & Banj of Plat­form Show Manila.
PS. Haha… Apple x Banksy x jeff­sta­ple =) I now appar­ently have the one and only jeff­sta­ple Mac­Book Pro lol

Founder and Cre­ative Direc­tor of Sta­ple Design and Reed Space. [↩]