We all lis­ten to our music using var­i­ous ways, appli­ca­tions, and tools. Vari­ety is the spice of Life after all. So what's anoth­er way to do so…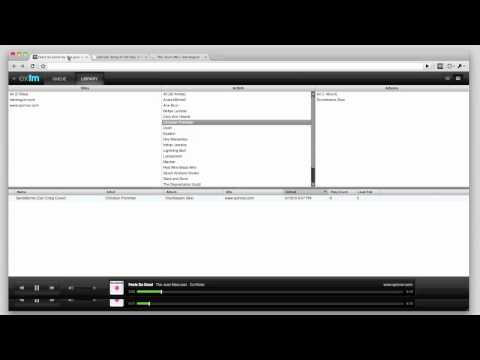 To note from the image above, the Ex.fm bar below the view­port of the brows­er appears only when you are on Ex.fm site domain, and sites the exten­sion sup­ports. For exam­ple, Sound­Cloud from my expe­ri­ence is one of them (in terms of that low­er-bar).
This is where it becomes very use­ful. Let's say you have to leave work, but want to lis­ten to your pre­vi­ous tunes: you just start up Chrome; turn on the Ex.fm exten­sion; and there you are, con­tin­u­ing from where you have left off in your aur­al expe­di­tion.
"But what if I already have Spo­ti­fy, iTunes, WinAMP, etc.?" Yes, those are great appli­ca­tions but that's where Ex.fm dif­fer­en­ti­ates itself in terms of util­i­ty. Here's a sce­nario for you. Let's say you are brows­ing a web­site or web­page that fea­tures new songs for lis­ten­ing only (i.e. a Hype­trak arti­cle). If you don't have the Ex.fm Chrome exten­sion, you will have to either have to stay on that page, or go to the Sound­Cloud link if there is one. On the oth­er hand, with Ex.fm, you basi­cal­ly have to browse that page and any songs on there would be "scrobbled"/added to your Ex.fm library for lis­ten­ing lat­er; any­where you have it installed. This elim­i­nates you hav­ing to have the page open, or remem­ber the URL for it; it's all under one place.
Oth­er than being able to add songs from web­pages you vis­it, you may link it to your social net­works. The net­works that it cur­rent­ly links up with are cur­rent­ly: Twit­ter, Face­book and Tum­blr. If any of your friends and/or peo­ple you fol­low link a song, those are auto­mat­i­cal­ly added to your Ex.fm library with­out you hav­ing to search for them in their respec­tive social net­work­ing site.
Mean­while, Ex.fm also allows you to "scrob­ble" your the songs you lis­ten to your Last.fm account. This is what I've been doing since switch­ing from WinAMP to iTunes years ago; and recent­ly, with Spo­ti­fy1.
Along with these fea­tures, Ex.fm pro­vides an appli­ca­tion for the iPhone.
This is where the fun parts comes in (also). Not only can you use the Ex.fm to play songs in your iPhone's music library, but you may stream songs that you have "not­ed" in Ex.fm; as well as from friends and Ex.fm "Tastemak­ers". Some fea­tures that seems to be cur­rent­ly miss­ing in iPhone appli­ca­tion in com­par­i­son to its brows­er counter-part are:
the abil­i­ty to view your Ex.fm "Library" and your "Queue"
the "Recent Activ­i­ty" list­ing from your social net­work
and the func­tion­al­i­ty of being able to queue songs from your Feed
Over­all, Ex.fm is pret­ty use­ful for what it can do and under the cir­cum­stances that you find your­self brows­ing web­sites to dis­cov­er new music. Give it a try. I hope this proves infor­ma­tion­al. Have a good one.
One fea­ture I wish they can imple­ment is auto­mat­i­cal­ly doing a "Love Track" action in Last.fm if you "Star" in Spo­ti­fy, or 4‑star/5‑star for exam­ple in iTunes. But that's anoth­er sto­ry, for anoth­er time. [↩]