Did you see that fight this past Sat­ur­day night? That was some crazy car­nage com­ing from a dude who smiles right before he's about to enter the ring and fight some­one who is bad ass at the weight they're fight­ing in. I'm talk­ing about the Manny "Pac­man" Pac­quiao vs. Ricky "Hit­man" Hat­ton fight. I think it was dubbed "The Bat­tle of East and West". Don't know if that's impor­tant or not, but these two are great fight­ers to each in their own right.
Any­ways, I watched the fight at a friend's Bachelor's Party down in SoCal. I was ner­vous right to the first punch. Then Pac­man started set­ting up his com­bos. Next thing you know, he chalks up two knock-downs in the first round.
"WTF?!?! I didn't know it was going to be this damn excit­ing, and fast". I said to myself. So I quickly grabbed my point-and-shoot cam­era, sneaked it in on a place below the TV, and set it on to record video… hop­ing to get a can­did of everyone's reac­tion to the rest of the fight.
Lo and behold—it turned out to be a reward­ing, stu­pen­dous and hilar­i­ous idea. They totally were busy cel­e­brat­ing the first round, and didn't notice it at all. Funny-ass-hell.
Any­ways, I hope you like it!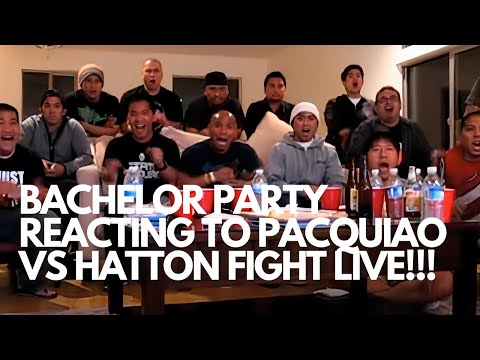 PS. Turn "HQ" on, as well as "Anno­ta­tions" if you haven't yet =)