#effect
---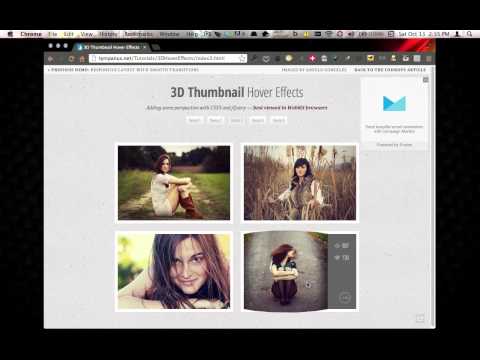 Pretty cool effect, and addi­tion to your web design project(s) that involve photography/images…
Source: Codrops
well, it's been quite a while… but i'm back from a hia­tus (or how­ever you say/spell it). it's not fun hav­ing to cough all through the night and hop­ing that it will soon stop, so you can just rest your eyes for the day to come. i guess it was the change of weather that we all expe­ri­ence a month ago, when the santa ana winds picked up. can you imag­ing it? i had a cold/flu for a week; then started dry-coughing the day after my cold was gone; and now, it's almost been a month—and i still have this damn cough. but alas, its get­ting a lit­tle bet­ter thanks to the doctor's pre­scribed cough syrup (CODEINE woohoo!) and zytro­mix (or some­thing like that) antibiotics.
ahh… the won­ders of med­i­cine. if only there was a cure to get­ting a job, that would make every­one in this whole econ­omy feel bet­ter. it's so bad that i tell my peers to not grad­u­ate yet and stay another year in col­lege. they'll have more fun going to school than try­ing to look for a job. oh well—sometimes you gotta do what you gotta do, and get some dough for the rent and bills.
so, what i've been up to this past month besides my bron­chi­tis? lots of stuff, well… from what i can think of with the lim­its of my cur­rent health. this past month alone, there were three birth­day par­ties, four week­ends of home cook­ing, one blue­balls soft­ball picnic/get-together, an annual songfest, an annual pcn, and xmen united. lots of stuff don't you think? even though my days are lim­ited (try­ing to go to bed early around mid­night)… i accom­plish 75% of my daily tasks. yah, not too much—need to get some R&R as the doc­tor said a week ago.
well, hav­ing so much R&R is also bad i think… i get too lazy some­time to get out of the house, or even drive. in the other hand, it ain't bad, i save money—which i don't even have on the first place. hav­ing time for some self relax­ation also opens up self reflection.
it justs stops you on your tracks, and make you think about what have you done with your life and stuff; and what you want to do with it the day after. for instance, i grad­u­ate last sep­tem­ber with a degree in com­puter engi­neer­ing from a pres­ti­gious uni­ver­sity as uc irvine. how­ever, i still have noth­ing to show up for it. no benzo or beamer; nor a big fat crib; nor a holla-back chick (but soon lana…soon mwha­haha …dream on jevon). also, it gets me think­ing of what things i could have done in the past; how could i have change some­thing; or what path i should have chose to my next class—deep things…deep things like that.
well, shows you a lot of what CODEINE can do to the brain… like for instance, it can mag­nifiy some­ones expe­ri­ence at kaba's 24th annual pcn last night. here's what i mean:
oh well… it's either the med­i­cine, or my "imag­i­na­tion run­ning toooo faaaaar… me and those dreamin' eyes of mine." but hey, i got to see me com­pares y comadres right. good times good times. last night's pcn was good… less than four hours. but it can't beat last year's—i guess it was the director's assis­tant… oh wait, that's me (j/p… it was all of mish… and her big fat rock's soon-to-be-space on her finger).
the only that was wrong with last night's per­for­mances was modern's. it sucked ass see­ing that their music skipped four to five times. i heard that the sound engi­neer played their track on a lap­top; and see­ing that they have a lot of bass beats thumpin' the house… it shook the lap­top since it didn't have ESP on those suckas. great thing is, mod­ern got to per­form twice. but that was weird… never seen any­thing like that for the sixth year straight attend­ing (or per­form­ing in) kaba's pcn. all in all, hats of to last night's pcn cast… job well done.
with that, i'll leave you with a salute to kaba mod­ern '03 per­for­mance at last night's pcn.
from my mind to yours, rock it don't stop it!